Ideaction.2021 Call for Abstracts Form
Location: Webinar and/or In-Person
Date: 31 - 1 June 2021, 9:00 am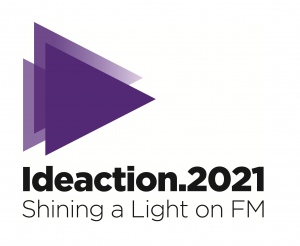 Facilities management is an industry that continually raises the bar for itself. It constantly seeks and finds opportunities to innovate and implement new ideas, striving to develop and adapt technologies and regularly re-engages with the built environment to better meet the needs of facility users owners, and the wider community. Ideaction.2021 will offer you and your colleagues a valuable forum that brings together learnings from the past year.
From the current COVID-19 crisis to advances in technology and environmental challenges, FM professionals have been thrust into the spotlight to ensure occupant safety and wellbeing, and to make critical decisions on buildings and environmental management. This idea is captured in the conference theme "Shining a Light on FM". We will explore contemporary issues through four streams: Focusing the Future, Driving Value, Achieving Compliance and Seeking Sustainability.
We invite you to participate at the Ideaction.2021 National Conference, presenting within a range of these key areas addressing strategic and technological innovation, policy and education related topics which will affect and influence the industry for years to come.
Due to COVID-19 restrictions, Ideaction.2021 will be held at Geelong, Brisbane, Sydney and Perth with a finalised agenda to be provided in April 2021. Please select your preferred location when submitting your abstract.
I look forward to Ideaction.2021 and once again hearing about the achievements of the past year while facilitating growth and learning within the industry.
Nicholas Burt
Chief Executive
Facility Management Association of Australia
---
On behalf of FMA, we are pleased to announce that the Call for Abstracts for Ideaction.2021 has been extended for Western Australia (WA) participants only. WA presenters have the option to present to Perth attendees only, or to present in front of our Perth audience while also being streamed nationally on Monday 31 May 2021 at Ideaction.2021.
---
ABSTRACTS CLOSING DATE: FRIDAY 16 APRIL 2021
---
THE CONFERENCE
The Facilities Management National Conference aims to provide a forum for facilities managers, property managers, space occupiers and other professionals who interact with the FM industry to become informed and to address current issues, including compliance, legislative change, public policy and industry developments.
The purpose of the conference is to promote the opportunities, challenges and solutions in facilities management, while providing a strong network within the FM industry.
---
TARGET AUDIENCE
Our target audience ranges from CEOs to practitioners, from facilities service providers to academics representing public, private and educational property, infrastructure and the natural resources sectors. All come together to learn and interact, to advance the industry and the technology within it, and to explore concepts that could shape the future.
---
ABSTRACT SUBMISSION
This year, the Ideaction.2021 program will cover four Abstract Themes which will run concurrently.
Abstracts submitted should align with one or more of the below themes and should focus on the opportunities, challenges and solutions that drives the industry forward.
The Abstract Reviewing Committee is interested in case studies or white papers presented through thought-provoking, stimulating ideas, future aspirations and development of our industry.
Abstract participants will be required to select one Abstract Theme with the option to select an alternative theme should the abstract submission cover two areas.
---
CONFERENCE THEMES
Please review the information below before submitting your abstract. For more details about each Abstract Theme, click the + symbol located to the right of each theme.
---
FOCUSING THE FUTURE
Subheadings:
Designed for Operations
Technology
Importance of FM in a Post Covid Environment
Harnessing Change
FM in the Workplaces of the Future
Smart Buildings, Technology/Software – Introductions, Evaluations, ROI, Productivity
Data – Building Performance Data, Flow Management, Managing the Overload
Shared Work Placement
Digital Technology & Information (BIM) in New Builds & Existing Buildings
Digitalisation of Building Inspection
Big Data
Internet of Things (IoT)
System Integration
Emergency Preparedness/Resilience
Workplace Procurement
System Integration
---
DRIVING VALUE
Subheadings:
Industry Innovation
Investment Strategy
Long-term Planning
The Client Experience
Learnings & Interest from Millennials
Creating an FM Profile
Education
Productivity
Future Leaders
Getting People Involved within FM
Human Resources
Combustible Cladding
Identifying & Harnessing Hidden Talent
---
ACHIEVING COMPLIANCE
Subheadings:
Resilience & Sustainability
Regulation & Compliance
ISO
Level of Consistency
Sub-Contractor Engagement/Things to Look Out For
Security - Strategies, Innovations
Statutory Compliance
Risk Management
Asset Protection
Long-term Security Planning
Emergency Preparedness – Practical Lessons Learnt
The Third Space
Personal Safety – WHS
Sub-letting & Short-Term Leasing
Soft services
Life Cycle & Asset Management
Defects
Outsourcing Risk
Changes to Contract Agreements - Force Majeure, Procurement Strategies, Insurance Impact etc.
---
SEEKING SUSTAINABILITY
Subheadings:
Wellbeing in the Workplace
Diversity in the Workplace
Indigenous Engagement
Gender Equality
Social Enterprises
Charity / Not for Profit Sectors
Indoor Environment
Sustainability – Reporting, Managing, Energy
Shared Work Placement
The Environment & Impacts of the Industry
---
ABSTRACT GUIDELINES
All Ideaction.2021 abstracts must be submitted by completing the below form before the closing date, Friday 16 April 2021.
Abstracts will be rated out of 5 for of the following criteria:
Alignment and value added to Abstract Theme (out of 5)
Potential contribution to FM knowledge (out of 5)
Relevance to the envisaged audience (out of 5)
Quality of paper and presentation (out of 5)
Please note abstracts should be presented in an objective manner. Submissions that appear sales-focused may be marked down.
Abstract participants will be notified of the outcome of their submission, and the format of the Ideaction.2021 program in April 2021.
Please email isabella@alignmentevents.com.au should you have any questions in relation to Ideaction.2021. We look forward to receiving your submission soon.
---
ABSTRACT SUBMISSION FORM
Terms and Conditions
Presenters are responsible for their own accommodation, transportation, disbursement and conference fee. Submission and acceptance of an abstract does NOT entitle authors to a complimentary registration. All speakers are required to register and pay to attend the conference. A discounted registration fee will be available for speakers.
Presentations must be presented by the named presenter, proxies and replacement are not permitted except for unforeseeable circumstances and illness
First presenter on the form will be the main and only contact for FMA and the Ideaction Organising Committee
Mandatory presentation guidelines will be provided to the selected presenter to adhere to
Submission and selection of an abstract transfers the copyright of the content to FMA for marketing purposes in relation to FMA Ideaction.2021
FMA and the Organising Committee reserves the right to accept, or refuse any abstract, and is not obligated to provide any feedback to the author(s)/presenter(s) on their abstract submission
FMA and the Organising Committee reserve the right to allocate presentation time and format (oral or poster)
Presenters commit to presenting the content as per the abstract on the allocated date and time, by PowerPoint Template provided by Conference Organising Committee if their abstract is selected
Presentations must be provided in their final format ready for presenting one week prior to Ideaction.2021, ensuring approval is received from FMA to proceed
If successful, FMA and the Organising Committee reserve the right to display and distribute the successful PowerPoint presentation post conference as a PDF document
Successful presenters provide consent for photographs to be taken during their presentation at Ideaction.2021